Mikołaj Górecki's personal alphabet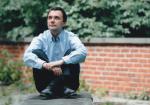 2015-07-28
Mikołaj Górecki reveals his personal alphabet. How will you perceive composer after the last letter is released?
A is for Antique

Sooner or later we will all become antiques.
B is for Boldness of Machines

Why? You can switch them off.
C is for Czesław Miłosz

My favourite.
D is for Distance

Necessary to see the things from a proper perspective.
E is for Emotions

Necessary in art, especially in music.
F is for Fruits of Philosophy

Consciously or not, we live by philosophy.
G is for Guitar

I used to hide my electric guitar under my bed from my father.
I is for Idyll

Can happen.
K is for Key of Composing

The opposite of decomposing.
L is for Laziness

I don't think I know what that is.
N is for Not being able

May the weakness omit me.
O is for Originality

Aim.
P is for People you call Friends

Having friends can save you.
R is for Relatives

Nothing is better than good relations with your relatives.
S is for Silesia region

Apparently, a beautiful region.
T is for Teaser

Secrets and mysteries are sometimes necessary.
W is for Wind of Freedom

Freedom is the most important thing, provided that it does not turn into insubordination.
Z is for Zan Tontemiquico

It's a pity that pre-Columbian poetry is so little known.
© PWM/ foto: Mariusz Makowski