58th International Contemporary Music Festival Warsaw Autumn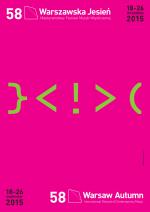 2015-09-17
Between 18 and 26 September, the 58th International Contemporary Music Festival Warsaw Autumn will be held.
According to the organisers, "The defining term of the programme of the 58th ICMF Warsaw Autumn is DYNAMISTATICS. This neologism points to the ambiguity of the of the crucial musical notion of dynamics. In music, pure dynamics or statics cannot be abstracted: one seamlessly leads into another; music can be static and dynamic at the same time. It is like the photon, which has a corpuscular and wave-like character; it is a particle and a wave at the same time, and its two states cannot be separated."
As usual, the festival programme abounds in concerts, premieres, exhibitions, meetings, installations and discussions. This year, it will present the music of e.g. Kazimierz Serocki, Krzysztof Penderecki, Witold Szalonek, Jerzy Kornowicz, Zygmunt Krauze, Lidia Zielińska, Włodzimierz Kotoński, Jagoda Szmytka and Paweł Szymański. Warsaw Autumn is also a review of what is most important in music, of modern trends and ways of artistic expression. The audience will hear the works by e.g. Simon Steen-Andersen and Matthew Herbert, but also well-known compositions of e.g. La Monte Young.