The promotion of the National Edition in the USA and Canada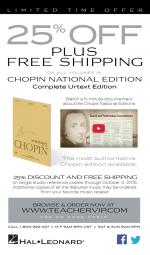 2015-09-09
Recently we have launched a promotional campaign for the National Edition of the works of Frederic Chopin in the USA and Canada, together with Hal Leonard, PWM exclusive distributor in North America.
The promotion of the National Edition in the USA and Canada aims at popularizing this exquisite, urtext edition of Chopin's works, based on composer's manuscripts and first edition. It is still rather unfamiliar to American customers and to change that we have prepared a movie presenting the ideas behind the National Edition and its uniqueness. You can watch the movie here: Chopin National Edition from PWM.
Our American partner has also created a website for piano teachers as well as special price offer: TeacherVIP

We hope that PWM-Hal Leonard campaign will increase interest in the urtext edition, which we believe can become as popular and well-liked as Paderewski Edition.