"Quo vadis" by Feliks Nowowiejski in Poznań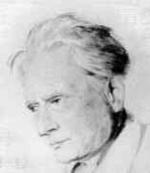 2015-10-19
On 11 November, during the concert held at the Grand Theatre in Poznań, we will be able to hear two pieces of music by Feliks Nowowiejski: Psalm 136 "Ojczyzna" (Fatherland) Op. 18 and "Quo vadis" Oratorio Op. 30. The concert will mark the celebrations of the National Independence Day.
The "Quo Vadis" Oratorio is considered to be Nowowiejski's greatest work. When writing it, the composer was inspired by Henryk Sienkiewicz's famous novel of the same title which gained international acclaim. Feliks Nowowiejski's oratorio was enthusiastically received by audiences around the world. In the interwar period, it was presented around 200 times in the cities of Europe and the Americas.
The piece is a five-movement cantata for soprano, baritone and bass, mixed choir, organ and symphony orchestra. Its style refers to the genre of Meyerbeer's grand opera and bears affinities to Haendel's oratory style, especially in choral parts. Feliks Nowowiejski composed the oratorio in 1903. It had its premiere in 1907 in Ústí nad Labem and was very well received by the audience. However, the composer was not happy with the piece and modified it a bit. The final version was performed in 1909 in Amsterdam. In the intermission, Queen Wilhelmina honoured Nowowiejski with a ring and a wreath with ribbons in the national colors of the Netherlands.
The concert in Poznań will start at 7 p.m.