Polish Music in Romania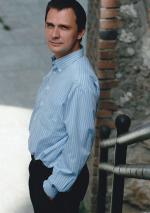 2015-10-26
On 13 November, the "Oltenia" State Philharmonic in Craiova, Romania, will feature the concert with Polish music, organised as part of the series presenting European music heritage. Three Polish musical pieces: "Concerto-Notturno" by Mikołaj Górecki, "Bajka" (Fairytale) overture by Stanisław Moniuszko and the "Eternal Songs" symphonic poem by Mieczysław Karłowicz will be performed.
In the 2015/2016 season, the "Oltenia" Philharmonic in Romania presents a series of concerts dedicated to the European musical heritage. In total, the series comprises 28 concerts led by 28 conductors from different countries. The concert with Polish music will take place on 13 November.
The "Oltenia" Philharmonic Orchestra will be conducted by Maestro Jacek Rogala. Patrycja Piekutowska will play violin solo. The Romanian audience will be able to hear three Polish pieces that were written within 150 years and that represent different aesthetics. Stanisław Moniuszko composed the "Fairytale" fantasy overture in 1848, providing it with a subtitle: "The Winter's Tale". Due to dynamic narration and colourful instrumentation, the title of the overture encourages interpretating it as a unique fictitious story.
Mieczysław Karłowicz wrote "Eternal Songs" symphonic poem Op. 10 in 1904-1906. The piece, conceived as a symphonic triptych, reveals the composer's reflections upon human condition and existence that he had endevoured during his lonely excursions in the Tatras.
"Concerto-Notturno" for violin and string orchestra, composed by Mikołaj Górecki in 2000, has already become a fixed item in the repertoire of performing artists and several orchestras around the world. Lyrical and melodic qualities of the 1st nocturnal movement, dynamic virtuoso of the 2nd movement and the nostalgic character of the 3rd movement make the piece very popular.