Witold Lutosławski's "Concerto for Orchestra" in Slovenia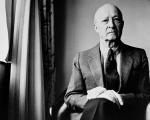 2015-11-18
On 26 and 27 November, two concerts with "Concerto for Orchestra" by Witold Lutosławski are planned in the Cankarjev dom centre for culture in Ljubljana, Slovenia. The piece will be performed by the musicians of the Slovenian Philharmonic Orchestra, conducted by Uroš Lajovic.
Next to "Concerto for Orchestra" by Witold Lutosławski, the audience will hear two more pieces: Jurij Mihevec's "Planets" overture for string orchestra and Ludwig van Beethoven's "Piano Concerto No. 4" Op. 58 with Dubravka Tomšič Srebotnjak on piano.
"Concerto for Orchestra" (1950-54) is the crowning achievement of the 1st period of Witold Lutosławski's artistic work in which he styled Polish folklore and used composition techniques that were typical of Neoclassical trend. In the "Concerto for Orchestra" he explored the material of Mazovian folk music. He transposed it, changing the rhythm and colour tone by variable instrumentation, and gave it the new musical meaning, showing it in the context of different melodic and harmonic layers. In his work on folklore material, he drew from music traditions, using toccata and passacaglia forms and imitation technique. He enriched traditional elements with new harmonics and instrumentation. The concerto for orchestra is characterised by clear form and dynamic musical action which reaches its climax in the last, third movement. According to Jadwiga Paja-Stach, "Concerto for Orchestra" is a virtuosic composition, requiring high technical skills and ability to create various moods from the performers. The instruments have been assigned to parts of different character: lyrical, pathetic, mysterious, jocular or virtuosic.