Cracovia Cantans 2016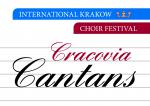 2015-11-06
PWM Edition will be a partner of the 7th International Krakow Choir Festival "Cracovia Cantans" (9th to 12th June 2016) and will fund a special prize (500 euro) for the best interpretation and performance of a Polish composer's choral piece from the PWM Edition catalogue by a foreign choir.
Foreign choirs that wish to compete for this prize must use original scores during their performance and perform one of the works listed below. Orders of scores can be sent to: handel@pwm.com.pl
The deadline for applications is 15th November 2015.

For details, rules and application form please visit: http://www.krakowchoirfestival.pl/rules_applicationpl.html

List of songs - category P (PWM Edition Prize):

Mixed choirs (SATB):
Marian Borkowski, Lux, 4'
Marian Borkowski, Sanctus, 4'
Henryk Jan Botor, Jezu, ozdobo Aniołów, 5'
Marcel Chyrzyński, …similes esse bestiis, 5'
Wojciech Kałamarz, Niepokalana Królowa, 2'30''
Wojciech Kałamarz, Słowiański Papież, 3'30''
Wojciech Kilar, Modlitwa do Małej Tereski, ca 4'
Wojciech Kilar, Lumen, 5'
Andrzej Koszewski, Magnificat, ca 3'30"
Aleksander Lasoń, Benedictus, 6'
Juliusz Łuciuk, IX Sonet słowiański, 7'
Paweł Łukaszewski, Ego sum pastor bonus, 4'
Paweł Łukaszewski, Laudate Dominum, 5'
Paweł Łukaszewski, Jubilate Deo, 2'
Jan Adam Maklakiewicz, Kołysanka, 3'15"
Józef Świder, Cantus gloriosus, ca 4'
Romuald Twardowski – Tryptyk morski:
1. [Pieśń rycerzy Bolesławowych o morzu, 2'30"]
2. [Cisza morska, 2'30"]
3. [Morze, 2'50"]
Romuald Twardowski, Jubilate Deo, 3'
Romuald Twardowski, Lauda Sion, 5'
Romuald Twardowski, Regina coeli, ca 3'
Józef Świder, Cantus gloriosus, ca 4'
Józef Świder, Psalm 8. Wszechmocny Panie, 2'30''
Józef Świder, Psalm 70. Boże wiecznej mocy, 2'
Wojciech Widłak, Modlitwa do Boga Miłosiernego, 2'30"
Wojciech Widłak, Psalmus CL, 3'20"
Stanisław Wiechowicz, Nie chcę cię, Kasiuniu, 2'
Maciej Zieliński, Domine, quis habitabit, 5'
Maciej Zieliński, Tractus, ca 3'30"

Female/children choirs: (SAA)
Bronisław Rutkowski, Coś tam w lesie stuknęło, 2'
Bronisław Rutkowski, Siedzi sobie zając pod miedzą, 3'30"
Bronisław Rutkowski, Uciekła mi przepióreczka, 3'10"

Male choirs (TTBB)
Hieronim z Koprzywnicy, Veni Sancte Spiritus 2'30"
Stanisław Wiechowicz, Jakech ja konie pasł, 1'
Stanisław Wiechowicz, Leciały gęsi, 2'
Stanisław Wiechowicz, Wyszła dzieweczka, 1'