Profiles of the winners of the 13th Tadeusz Ochlewski Composers' Competition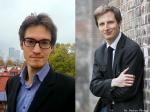 2015-11-25
In October, we could learn the names of the winners of the 13th Tadeusz Ochlewski Composers' Competition, organised by PWM Edition. Krzysztof Ratajski was awarded the 1st prize for his piece "Rebounds" for five-part children's choir to the original phonetic text. Szymon Godziemba-Trytek received an honorary mention for "A Wonderer's Song" for three-part children's choir.
Krzysztof Ratajski was born on 17 June 1992. Between 2001 and 2005, he lived in Argentina, where he attended a biligual international school. Although he used to sing in a choir while at primary school, he did not go to any music schools. In 2011, he was accepted as a student of the Faculty of Physics, Warsaw Univeristy of Technology. After his first year at the university, he passed an entrance exam at the Fryderyk Chopin University of Music in Warsaw (Faculty of Composition) and completed undergraduate studies with Professor Zbigniew Bagiński with excellent grades.
He took piano lessons, first in Argentina and next at the Music Conservatory in Warsaw. At that time, he participated in numerous student concerts, organised by e.g.The Fryderyk Chopin Society or the Royal Castle in Warsaw during the Liszt Year, and in many occasional concerts. Apart from composing classical music, he is also interested in jazz and piano improvisation. He gives private piano lessons.
An active member of the Scientific and Artistic Association, he took part in student concerts and festivals in Warsaw and in Poznań, which presented his music: "Urojenia" for oboe, piano, violin and cello, "Qi" for flute solo, "Prana" for accordion and percussion, "Studium Timore" for soprano, piano and percussion, "Noktodymensja" for string orchestra, "Pertraktacje" for clarinet and audio tape and "Synthesis" for 3 drummers.
Szymon Godziemba-Trytek, composer and music theorist, was born on 21 February 1988 in Bielsko-Biała. He finished the 1st degree State Music School in Cieszyn (clarinet) and the 2nd degree State Music School in Szczecinek. In 2013, he completed his 2nd degree composition studies (with distinction) with Marian Borkowski and his theory of music studies at the Feliks Nowowiejski Academy of Music in Bydgoszcz. Between 2008 and 2010, he studied composition with Marek Jasiński. In 2009/2010 he continued his studies during an annual ERASMUS grant at the Istituto Superiore di Studi Misicali "Achille Peri" in Reggio nell'Emilia in Italy. Since 2013, he has been teaching at the Academy of Music in Bydgoszcz.
He is a recipient of numerous awards and distinctions, e.g.: 1st prize at the international composers' competition EACC12 Choral Composition Award in Graz, Austria, for his "Beati" for 12-part mixed-voice a cappella choir (2012), 3rd prize at the 10th International Composers Competition "Musica Sacra" in Cologne for his "Miserere mei Deus, miserere mei" for mixed-voice a cappella choir (2014), 3rd prize (ex aequo) at the 7th Karol Szymanowski Competition for Composers for his "Tre Episodi" for orchestra (2013), 1st prize at the "Fides et Ratio" Polish National Composing Competition for his "Salomon" for choir and organ (2009), 1st prize at the 5th Polish National Competition for Composing the Choral Song of Passion for his "O vos omnes" for mixed-voice a cappella choir (2012). He is also one of the winners of the 5th Zygmunt Mycielski Composing Competition with his "Wietnam" for vocal octet (2014).
His music is published both in Poland (the Publishing House of the Academy of Music in Bydgoszcz) and abroad (Helbling Verlag in Innsbruck and SCHOTT MUSIC GmbH & Co KG in Mainz). The music of Szymon Godziemba-Trytka has been performed at numerous festivals and concerts in Poland and in Austria, Spain, Ireland, Germany, Russia, Ukraine, USA and Italy, by e.g.: Ignacy Jan Paderewski Pomeranian Philharmonic in Bydgoszcz, Szczecin Philharmonic, Gorzów Philharmonic, Baltic Neopolis Orchestra, Symphony Orchestra of the Academy of Music in Bydgoszcz, Schola Cantorum Gedanensis Polish Chamber Choir, Jan Szyrocki Academic Choir of the Technical University of Szczecin, Chamber Choir of the Academy of Music in Bydgoszcz, Choir of the Gdańsk University of Technology, Mozart 2003 Association Choir and Orchestra. His works were also promoted twice by the Ministry of Culture and National Heritage, as part of the "Commission for Composition" programme ("Etnos" and "Magnificat").
Szymon Godziemba-Trytek has received many awards and artistic grants: award of the Minister of Culture and National Heritage for outstanding achievements in artistic activity (2012), Scholarship of the Minister of Science and Higher Education (2012), Scholarship of the President of the City of Bydgoszcz for outstanding students (2013), Scholarship of the Grazella Foundation in music (2013), 1st prize in the Rumaki 2013 poll for outstanding achievements in culture.