The premiere of 'Concerto for accordion and orchestra' by Zygmunt Krauze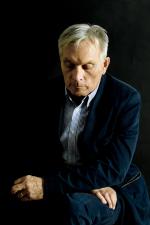 2016-04-06
On 8th-16th April Wrocław will hold the 30th Musica Polonica Nova Festival. At the Festival, the Concerto for accordion and orchestra by Zygmunt Krauze will have its world premiere on 15th April.
"The Concerto is a work about a man. Part one is a persistent cry that expresses lack of consent to what surrounds us, and lyric fragments show a gone, idealised, probably unrealistic time. Part two, in turn, presents joyful rush, a successful flight" – in such words Zygmunt Krauze describes his latest work.
The composer also reveals that the Concerto refers to his two earlier works: Refrain for piano and Suite de danses at de chansons for harpsichord and orchestra, comprising their development.
The first performers will be Maciej Frąckiewicz accompanied by the Orchestra of the National Forum of Music, conducted by Benjamin Shwartz.