The premiere of 'Double Concerto for two flutes and symphony orchestra' by Paweł Mykietyn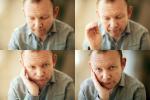 2016-05-17
This Friday, 20th May, will feature the premiere of Double Concerto for two flutes and symphony orchestra by Paweł Mykietyn. The work was commissioned by The Polish Baltic Philharmonic (PFB) in Gdańsk and here it will be staged for the first time. The Baltic Philharmonics will be conducted by Juri Gilbo, and the solo parts will be performed by Łukasz Długosz and Agata Kielar-Długosz.
The soloists shared their impressions on the Concerto:
It is composed of three parts attacca, where the first and the third one are based on the technique of constant accelerando developed by the composer. An absolutely fascinating thing is an innovative approach to the agogic aspect of this work. The solo parts - in a complete symbiosis with the orchestra part - are treated in a very original way.

Paweł Mykietyn's Concerto will definitely enrich the modern flute literature. It is great!

After such a recommendation we can only invite you to Gdańsk on the Friday night!
The details of the concert are available on PFB's website.

© PWM / fot. Marcin Oliva Soto