'Quo vadis' by Feliks Nowowiejski will resonate in concerts in Poland and Germany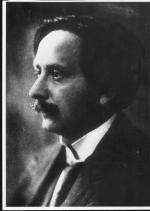 2016-06-08
Quo vadis, an oratorio by Feliks Nowowiejski, will be played in Konin (25th June), Poznań (29th June) and Berlin (30th June). The work will be performed by Wioletta Chodowicz (soprano), Robert Gierlach (baritone) and Wojtek Gierlach (bass) accompanied by the Choir of Podlasie Opera and Philharmonic and the Orchestra of Poznań Philharmonic conducted by Łukasz Borowicz.
The oratorio's libretto is based on Henryk Sienkiewicz's novel of the same title.
This triple performance of Quo vadis takes place in the Year of Henryk Sienkiewicz, commemorating the 100th anniversary of the novelist's death and in the Year of Feliks Nowowiejski, 70 years after his death. Year 2017 will mark the 140th anniversary of composer's birth.
On this occasion PWM prepares a new edition of works by Feliks Nowowiejski.
fot. PWM Edition archive