Zygmunt Krauze's 'Poem of Appolinaire' - premiere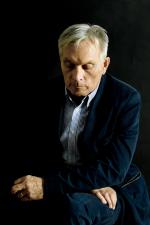 2016-06-15
World premiere of Zygmunt Krauze's "Poem of Apollinaire" will take place in Warsaw on 26th June. His work is dedicated to a speaking pianist and 12 instruments. The first performance shall be honoured by the Orkest de ereprijs conducted by Wim Boerman. The solo part will be played by the composer.
The "Poem" was commissioned by the Association of Polish Composers [Związek Kompozytorów Polskich] and will be staged during the Concert of Seven Premieres capping the 70th anniversary of the association.
Zygmunt Krauze describes his latest work in the following words:
In his poem of 1918, "The Pretty Redhead", Guillaume Apollinaire included a dramatic appeal to the critics, or even the authorities, for understanding towards seeking artists. This appeal is a cry for freedom of artistic speech. The poem "Pretty Redhead" has accompanied me since my childhood. It is always current.

Fragments of the poem are present in this work. They are expressed by a musician playing a detuned piano - my favourite instrument. The solo part forms an opposition against the instrumental ensemble. It has a changeable and provocative character. However, the part of the ensemble is stable, untouched, bereft of expression.

The work was composed at the initiative and commissioned by the Association of Polish Composers [Związek Kompozytrów Polskich] in order to celebrate its 70th anniversary. Many of us, members of ZKP, remember discussions and situations in which we raised the issue of the freedom of artistic speech. This is what Apollinaire fought for 100 years ago.
© PWM / fot. Waldemar Kielichowski