On 1 December 2017, we shall acquaint ourselves with Mikołaj Górecki's latest work!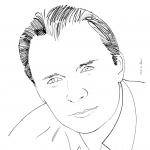 2017-11-27
Mikołaj Górecki's 'Concerto no. 2 for Flute and String Orchestra' will première on 1 December at the Silesian Philharmonic Hall in Katowice. The work will be performed by Jadwiga Kotnowska, to whom the 'Concerto' is dedicated. The soloist will be accompanied by the Silesian Chamber Orchestra, directed by Robert Kabara.
In examining the œuvre of Mikołaj Górecki, it seems that – despite his varied interests – he has a particular predilection for the string orchestre sound, examples of which are such pieces as the 'Concerto-Notturno' for Violin and String Orchestra from 2009 and the 'Elegy' for Cello and String Orchestra from 2015. In the case of 'Flute Concerto no. 2', the string orchestra sounds permits the solo part to be additionally highlighted. The composition displays the variety of colors and articulation possibilities of the instrument.
We await the great musical feast!
Detailed information about the concert is available on the Silesian Philharmonic web site.
© PWM / rys. Daniel de Latour