Give me some music (…)*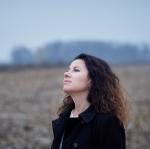 2018-04-09
On 27 April, the world première of Agata Zubel's Cleopatra's Songs for voice and instrumental ensemble will take place. The work was inspired by the now-legendary love story of Antony and Cleopatra. In it, the composer utilizes fragments from the text of Shakespeare's drama.
The work was commissioned by Klangforum Wien and is dedicated to that ensemble. This is the second work, after What is the Word (2012), to be commissioned by Klangforum Wien from Agata Zubel.
The world première will take place in Germany (Witten) during the Wittener Tage für Neue Kammermusik. Cleopatra's Songs will be performed by Agata Zubel (S) and Klangforum Wien under Emilio Pomárico. The concert will be broadcast by WDR3 radio.
This has been an extraordinary year for Agata Zubel. Extraordinary, because it is a jubilee year. Extraordinary because it is for this year that – aside from the upcoming one in April – two more world premières of the composer's works have been announced. We await them with impatience!
Meanwhile, as we await the first of the planned premières, we cite below an original text revealing the composer's sources of inspiration:
Cleopatra's Songs

Inspired by

– a time that no one can remember;

– a feeling that history obscures with the cynicism of mercantile interpretations;

– a legend that is more powerful than history;

– the words of a bard who wove HER life into the richest of poetry;

– a country which, though today submerged, still intoxicates the imagination with its splendor;

– and finally HER herself – the queen, the goddess: intelligent, imperious, charismatic, daring, extravagant, clever, hard, eloquent, full of energy, courage, wisdom, ambition, determined, proud, steadfast, rich, stubborn, pampered, peerless.

Though the true picture – like the sound – has irretrievably escaped. There is also much that we are not able to understand. But the gaps are conducive to our – still and yet again – yielding all the more to its mythical charm. Brilliance and greatness. Personality. To the very end, she loved.

Agata Zubel
© PWM / photo: Bartek Barczyk
* Quote from Cleopatra's Songs