Andrzej Kwieciński, PWM COMPOSER OF THE MONTH for May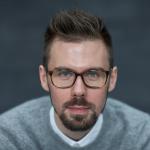 2018-05-07
Young, innovative, ambitious, unconventional, surprising, bold.
Those words describe our COMPOSER OF THE MONTH for May – Andrzej Kwieciński.
In 2005, as a 21-year-old, he received a prize and a scholarship from the Polish Ministry of Culture and National Heritage, and in subsequent years scholarships funded by the Dutch Ministry of Culture (2008–2009) and the Witold Lutosławski Society (2010).
In 2010, he won a prize in the 'Young Masters XXI' Composers' Competition. In 2012, he was nominated for the Gaudeamus Prize. In 2014, at the 61st International Rostrum of Composers, his work 'Canzon de' baci' received first prize in the category of composers aged up to thirty, a commendation in the overall category and the special prize of the International Music Council and Radio France.
He is one of the most recent composers to make his work available in collaboration with PWM Edition. The PWM catalogue includes three works by Andrzej Kwieciński: 'Personaggi: Euridice' for choir of soloists and chamber orchestra, and 'super[P|PE]s DEMO' and 'super[P|PE]s' for violin and chamber orchestra. There are plans for several other works.
We can't wait!
© PWM / photo Bartek Barczyk