Aleksander Nowak's new opera to a libretto by Olga Tokarczuk (winner of the Man Booker Prize 2018!)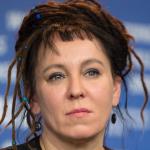 2018-05-23
The Man Booker International Prize, alongside the Pulitzer and the Literary Nobel Prize, is one of the most important distinctions in the world of literature. The thirteen nominated authors included Olga Tokarczuk, for her novel 'Flights'. On 22 May, the winners of this year's edition were announced: Olga Tokarczuk and the English translator of her novel, Jennifer Croft.
This is a splendid opportunity to announce more good news: this year's Sacrum Profanum festival will feature the premiere of an opera with a libretto by Olga Tokarczuk. The music will be written by Aleksander Nowak.
The opera 'Ahat ilī – Sister of the Gods' will be the crowning point in this year's festival. 'Most of the characters in this story are gods, but the main protagonist is a human, with his sometimes divine, sometimes un-divine nature', says the composer.
Premiere on 16 September.
We can't wait!
photo Martin Kraft