World premiere of Marcel Chyrzyński's 'Ukiyo-e No. 4'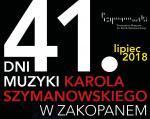 2018-07-10
In the last week of July (22-29.07.2018), the 41st Days of Music by Karol Szymanowski will take place in Zakopane. During this year's edition of the festival a number of chamber concerts and recitals are planned. The program will be dominated by 'classics' of the nineteenth and twentieth century: Chopin, Paderewski, Górecki, also Bartòk, Beethoven or Ravel. Of course, there will be plenty of Karol Szymanowski's music as well.
During the final concert on July 29, the world premiere will be given to Marcel Chyrzyński's 'Ukiyo-e No.4' for clarinet, French horn, piano and string orchestra. It will be performed by the musicians of the Silesian Trio (Joanna Domańska - pf, Roman Widaszek - cl, Tadeusz Tomaszewski - cr) with the accompaniment of the Silesian Chamber Music Orchestra conducted by Robert Kabara.
In the week preceding the premiere of 'Ukiyo-e No.4', on Tuesday, July 24, a meeting with the composer will take place as part of 'highlander's residences' in the Gallery at Wnuk's. Marcel Chyrzyński will talk about his latest piece.
The foretaste of the meeting will be the words of the author's commentary on 'Ukiyo-e':
Ukiyo-e No. 4 for Clarinet, French Horn, Piano and String Orchestra (2018) is a part of a planned cycle of works titled 'Ukiyo-e'. It is my fourth composition inspired by Japanese woodcuts ukiyo-e, meaning 'pictures of the floating world'. These works were seen as the essence of atmosphere of both everyday and cultural life of Japan in the Edo period (17th-19th century).

In the emotional aspect of the cycle I refer to Japanese aesthetics, in which fleetingness, fragility and transience of a given moment are of special importance. Also, the Buddhist attitude towards nature may be sensed, as 'beauty of the flowers is dear to us, for we know that in the autumn they will no longer be here.'
The piece was commissioned by the Karol Szymanowski Association in Zakopane and co-financed by the Ministry of Culture and National Heritage of the Republic of Poland within the programme 'Collections' – the priority 'Composers' Commissions' implemented by the Institute of Music and Dance.

Marcel Chyrzyński

We cordially invite you both to this meeting and to the entire festival.