Paweł Mykietyn – the March Composer of the Month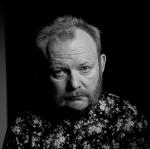 2019-03-01

At the start of the month – we introduce the new protagonist of our project COMPOSER OF THE MONTH – Paweł Mykietyn.
Pupil of Włodzimierz Kotoński, he took the Polish and international music world by storm in the 1990s. After his "Warsaw Autumn" debut (La Strada), he won the 1st prizes (in the under 30 category) of the International Rostrum of Composers in Paris (for 3 for 13) and of the International Rostrum of Electroacoustic Music in Amsterdam (for Epiphora). His successive works confirmed his position as one of the most recognisable figures in the contemporary music scene.

His accolades include the Passport Award of the "Polityka" monthly (in January 2000), the OPUS Public Media Award (as the 1st winner of this award ever, 2008), the Cavalier's Cross of the Order of Polonia Restituta (2011), and the prestigious Prix France Musique Sacem (2012).

This month sees the world premiere (on 29th March 2019 in Warsaw) of Paweł Mykietyn's Cello Concerto No. 2. Following the enthusiastic reception of his Concerto for Violin, first presented just a week ago (on 22nd February in Wrocław) – we eagerly look forward to that other March premiere!