Agata Zubel's "3x3" to Be Premiered in Paris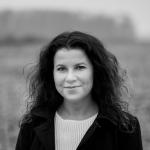 2019-04-04
The world premiere of the most recent work by the highly regarded Polish composer Agata Zubel is to take place on 9th April 2019 at the Auditorium Marcel Landowski in Paris. The nine members of Ensemble 2e2m – one of France's oldest and most renowned groups of this kind – will perform 3x3 for 9 instruments. The conductor is Pierre Roulllier.
The concert is part of the cycle "It Is a Woman's World (Too)".
Here is the composer's own commentary on this piece:

"Individuals make up groups, groups make up communities, and communities make up a society.

Three times three; words – phrases – contexts; a form that entails development.

Each individual, group or community calls for recognition, wants to be distinguished in the crowd.

We do not know who controls the current meaning and the drive toward a finale, who chooses the solutions for everyone; what counts is to be, and make a presence.

Music is a field of elegance, after all, and elegance is a field of knowledge, contexts and aesthetics.

Should we assume that someone will exert control? Use the convention to permit obstinate change, the overcoming, the coming into the limelight, the disappearing, the antagonising and the unifying – for some specific purpose?

In music all this is possible. Even if the answer is not obvious to you in the end – and we are not going to shine it in your eyes."

WHAT Agata Zubel, 3x3 for 9 instruments

WHEN 9th April 2019, 7.30 pm

WHERE Paris, CRR (Conservatoire à Rayonnement Régional de Paris)

WHO Ensemble 2e2m, Pierre Roullier – conductor

The world premiere of Agata Zubel's 3x3 for 9 instruments is held under the patronage of PWM Edition as part of the TUTTI.pl programme, which promotes Polish music performances.