What Do We See When We Are Listening? ACOUSMATIC MUSIC from ANAKLASIS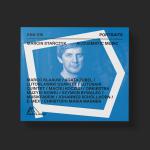 2021-04-19
Music is normally supposed to be listened to. Still, it also flows through our other senses. Is it, however, connected with them in a necessary and inseparable manner? After all, we can close our eyes, open up our imagination, and let unexpected experiences flow through our minds. On its brand-new 2CD release from the PORTRAITS series, the ANAKLASIS label invites you to play with your experiences and expectations. The album ACOUSMATIC MUSIC presents the philosophy of music as interpreted by one of the most intriguing contemporary composers – Marcin Stańczyk.

Marcin Stańczyk, pupil of, among others, Zygmunt Krauze and Ivan Fedele, has won prizes in many international composers' competitions, including (as the only Pole) the Toru Takemitsu Composition Award, Japan's most prestigious prize in the field of composition. He is an artist who both seeks and finds solutions, asks questions and provides us with answers. 

The four works that make up this 2CD programme originated in reflection on the essence and the perception of music. Some Drops, composed for an itinerant trumpet and an orchestra being rained upon, puts our senses to the test. We can never be sure where and how far from us the source of sound is located. Blind Walk, premiered at the Venice Biennale, is played to a blindfolded audience and comments on the difference between listening only with the ears and perceiving a concert with all the senses. Similar ideas gave rise to Sursounds, a piece about 'what is above the sounds'. This extraordinary piece from the borderland between waking and dreaming fuses recognisable concrete sounds with abstract ambient music. Unseen, about the search for happiness, was inspired by the summer solstice and the rituals associated with that time. The performers of this unique music contained on the new ANAKLASIS album are all new music celebrities: original singer and equally outstanding composer Agata Zubel; the double-bell trumpet player Marco Blaauw, as well as world-famous ensembles: E-MEX, Musikfabrik and the Lutosławski Quartet.





Put on the record and close your eyes. What do you see?

The album has been recorded and released in cooperation with the Adam Mickiewicz Institute.

ANAKLASIS
A DIVISION OF 
PWM EDITION

www.anaklasis.pl 
www.pwm.com.pl/anaklasis 
www.facebook.com/anaklasisrecords/