CONTEMPORARY CARILLON: a new CD in the SOUNDS series from ANAKLASIS – available for purchase as of 3rd September!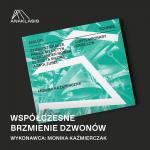 2021-08-19
Forgotten forms of sound are more and more frequently rediscovered and restored to the music world in fresh, modernised ways. This is also the case with ANAKLASIS new CD in the SOUNDS series. CONTEMPORARY CARILLON is a unique attempt to demonstrate the contemporary sound of bells as envisaged by the most outstanding Polish composers. The album will go on sale as of 3rd September, and two of the works recorded on it will be premiered live just two days later.

Bells have for centuries remained an element of the Polish audiosphere, but the carillon (a set of at least 23 tower bells activated by means of a special keyboard) still appears to be an exotic instrument and its potential largely remains unrecognised. Luckily, in Poland we have a diligent promoter of carillon culture, Monika Kaźmierczak, D.M.A., graduate of the Gdańsk Academy of Music and the Netherlands Carillon School in Amersfoort, who holds the post of Gdańsk's carillonneur. The city has two such instruments, located on the tower of St Catherine's Church and in the Main Town Hall. The possibilities of these centuries-old instruments are much more than merely historical. Proof of this can be found on ANAKLASIS most recent CD, on which Kaźmierczak performs works commissioned by the City of Gdańsk and the Museum of Gdańsk from the crème de la crème of Polish contemporary classical music: Aleksander Nowak, Elżbieta Sikora, Paweł Mykietyn, Agata Zubel, and Zygmunt Krauze.

The first of the compositions on CONTEMPORARY CARILLON, Three Callings by Aleksander Nowak, performed in Gdańsk in 2019, commemorates the 80th anniversary of the outbreak of World War II. Nowak brings out the potential of the Gdańsk instrument, emphasising the colouristic and harmonic frictions between various shades of sound. Elżbieta Sikora's Running North for the carillon of St Catherine's, written in 2020 to celebrate the fifty years of the Museum of Gdańsk, comes with this telling commentary: 'To run away from fate and from oneself, from the plague and epidemics, war and enslavement, from all evil. Run away to the north, where the sea opens up, and beyond it – freedom and the allure of mystery.' Paweł Mykietyn's STOP was composed in the same year for the 40th anniversary of the Gdańsk Agreement. 'The title expresses the beautiful though possibly naïve dream of good winning over evil. Let this dream resound from the carillon of Gdańsk Main Town Hall, in the city which witnessed both the great good of the Solidarity's rise and the great evil of its president's assassination,' writes the composer, whose works have for many years taken us on a surrealist journey through time and space.





Two pieces recorded on CONTEMPORARY CARILLON will be premiered in Gdańsk on 5th September. Agata Zubel's Memory of Bronze was written for the carillon on St Catherine's Church tower, which has more bells and thus more possibilities of creating both high pealing and low bass-register sounds, as well as aftersounds which follow behind them. The other composer whose work will be first performed in Gdańsk, Zygmunt Krauze, is well-known for his love of the piano, sometimes slightly out of tune, which gives his works their characteristic nostalgic sound. His tripartite Reveille (Wake-Up Call) 'is a call to be vigilant, to change and sober up, look at oneself and the world around us from a new perspective'.

The SOUNDS series from ANAKLASIS promotes looking at contemporary music from the perspective of its eminent interpreters and their instruments. Releases in this series have so far included WORKS FOR RHODES PIANO & STRINGS, exploring the sound of the Rhodes piano, BI-PIANO RECITAL, on which Zygmunt Krauze approaches the music of Chopin on his own musical terms, and POLISH HEROINES OF MUSIC – orchestral music by Polish 20th- and 21st-century women composers.

The partner of this album is the Museum of Gdańsk.

Released thanks to the support of GIWK water supply company.


Programme:

5th September 2021, 12 noon, Gdańsk, Main Town Hall, Zygmunt Krauze – Reveille

5th September 2021, 3 p.m., Gdańsk, St Catherine's Church, Agata Zubel – Memory of Bronze