Maciej Zieliński: composer of the month in September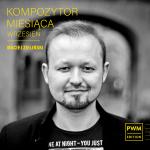 2021-09-01
In 2021 PWM Edition is highlighting trends and directions in Polish music of the twentieth and twenty-first centuries, and also composers representing those currents who are associated with PWM. September features postmodernism, à la Maciej Zieliński. 
 
Maciej Zieliński is one of the most important composers of his generation. His contemporary output is defined as 'emotional postmodernism'. It stands out for its expressivity, formal and structural inventiveness, original orchestration and individual approach to postmodernism.
Zieliński is also an esteemed, award-winning composer of film music. His distinctions include the New Filmmakers LA Award, three nominations for the Polish film industry's 'Eagle' awards and a nomination for the Crystal Pine Award at the International Sound and Film Music Festival in Croatia.
Maciej Zieliński is equally passionate about popular music (incl. collaborations with Kayah and Ania Dąbrowska), film music (incl. Gry uliczne [Street games] and Sługi boże [Humble servants]) and contemporary music. In this last category, free from the demands of the market and producers, Zieliński is able to fully develop the range of his compositional ambitions and capabilities. One of the first discs released on the ANAKLASIS label is ARCHIPELAG [ARCHIPELAGO] (ANA 004), featuring contemporary music by Maciej Zieliński. The postmodernist multiplicity of influences in Zieliński's works is well served on this disc by his collaboration with an orchestra specialising in combining different musical worlds, and it would be hard to find an ensemble with more experience in that domain than the Aukso - Chamber Orchestra of the City of Tychy, conducted by Marek Moś. From Shining II, inspired by optical phenomena, and also entering into dialogue with the output of Krzysztof Penderecki (whose compositions were used in the cult horror film The Shining) to Accello Tanguero, in which the solo instruments are accordion and cello, as befits a travesty of the tango idiom, we hear clearly that Archipelag consists of works written not just for string orchestra, but also for vivid emotions. 
For more on ANA 004, visit the ANAKLASIS website. 
Works by Maciej Zieliński and publications dealing with his music can be bought at a discounted price in the PWM bookshop and via our website. We invite anyone interested in digital access to his sheet music to explore this composer's work through the nkoda app.
We invite you to read the composer's ALFABET [Alphabet], which introduces issues of importance to the composer and helps us to get to know him better.
 
A - abstraction, alienation, absynth, adrenaline, art, angel, archi, aura
Alone in a crowd for alto saxophone and tape
A. for alto saxophone and piano
L – logic, literature, lottery
Lutosławski in memoriam for oboe and piano
F - fascination, Faust, fiction, film
Fallen Angel for drums and tape
A - absurdity, aphorism, accent, action, acoustics, algorithm, anomaly, argument, applause
Accello for accordion, cello, string orchestra and percussion
B - baroque, bible, big band, ballet, baton, flat
Barocode I for violin, viola and string orchestra
Between Yesterday and Tomorrow for flute, viola and harp
E - energy, emotions, ethics, ethos, euphoria, evolution, empathy
Elemen T for orchestra
T - tango, top, theme, term, tolerance, triton
Three dreams and a lullaby
Tractus for mixed choir a cappella
Trio for M.B. for clarinet, violin and cello
That time of year for a vocal ensemble
Time Capsule for orchestra