LUTOSŁAWSKI BETWEEN THE CLASSICAL AND JAZZ WORLDS. THE ALBUM METAMORPHOSES: VARIATIONS ON LUTOSŁAWSKI GOES ON SALE AS OF 28th JUNE!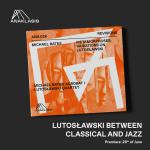 2023-06-12
How far is jazz from classical music? Do they really speak radically different languages? Michael Bates' Acrobat and Lutosławski Quartet are ensembles from different musical environments. They have established an artistic dialogue focusing on the oeuvre of one of Poland's greatest 20th-century composers: Witold Lutosławski. The results of their work have been recorded and will soon be released under the Polish music label ANAKLASIS. The CD METAMORPHOSES: VARIATIONS ON LUTOSŁAWSKI enters the market on 28th June.


Despite his classical education, Witold Lutosławski's output as a composer is not far from improvisation, and it also inspires jazz artists. Bassist Michael Bates heard Lutosławski Quartet during the Jazztopad festival in the autumn of 2021. The Polish composer's music made a tremendous impression on him. 'So powerful. On the flight home I had already begun some deep listening to Witold Lutosławski and making sketches for several pieces in hopes of collaborating with them,' Bates recalls. A year later the musicians played together at New York's summer edition of Jazztopad, jointly rediscovering Lutosławski in Bates' jazz guise.


The collaboration of musicians from two different musical worlds did not end here. Half a year after their NY concert, they met up again in a studio and recorded a new version of Lutosławski. The album METAMORPHOSES: VARIATIONS ON LUTOSŁAWSKI from ANAKLASIS comprises arrangements of several works by Lutosławski, conceived as the Acrobat leader's tribute to the Polish composer's unique individuality. 'His sounds were vast, edgy and above all singular,' says Bates of Lutosławski. 'I've always appreciated the intrinsic symmetry of every piece and the deeper you dig, the more his attention to detail is revealed.' The resulting music is marked with contrasts of timbre, harmonic ingenuity, and unpredictable turns of action. The whole pulsates with energy and expression.


'People talk about jazz and classical being completely different worlds. Maybe. But I believe the languages are not so different. It's more about the ways they are utilized. This project showcases that,' Bates explains, and he adds: 'These arrangements create wide open opportunities for improvisers to explore Lutosławski's material and for the original compositions to be heard from a different perspective. It's been a fun ride.'


The world première of the ANAKLASIS album will also be marked by a concert of Lutosławski's music in Michael Bates' arrangements, in the daring interpretations of that latter musician's quintet and Lutosławski Quartet. The concert will be held as part of the Jazztopad festival on 28th June at New York's Lincoln Center.


The album is part of our REVISIONS series, dedicated to experiments, transgressions, and revolutions. It will be available as of 28th June on CDs and in music streaming services.


#sharpenyourears for #WINDTRIO3, the first single introducing the album METAMORPHOSES: VARIATIONS ON LUTOSŁAWSKI! Carried away by this sample of Michael Bates' Acrobat and Lutosławski Quartet's variations on themes by Witold Lutosławski, we look forward to the full programme's première.


Recorded and released in co-operation with the Adam Mickiewicz Institute.
The album's partner is the Witold Lutosławski National Forum of Music in Wrocław.

Media patrons: TVP Kultura, Program 2 Polskiego Radia, Culture.pl
Album partner: Ruch Muzyczny


ANAKLASIS
A DIVISION OF
PWM EDITION

www.anaklasis.pl
www.facebook.com/anaklasisrecords
www.instagram.com/anaklasis