Różycki's Adventures in Jazzland. The album INSPIRED BY LUDOMIR RÓŻYCKI from ANAKLASIS on sale as of 28th August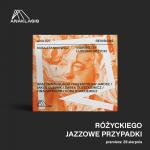 2023-08-16
Spectacularly successful as Ludomir Różycki's music was in his lifetime, it is seldom programmed nowadays. All the same, such remarkable art could hardly fall into utter oblivion. It has attracted and fascinated excellent jazz pianist Kuba Stankiewicz, who has translated it into the language of jazz. The effects have been recorded and released on ANAKLASIS label's most recent album, INSPIRED BY LUDOMIR RÓŻYCKI, which goes on sale as of 28th August.
 
One of Poland's most compelling jazz pianists, Kuba Stankiewicz has shared the stage with, among others, Jan Ptaszyn Wróblewski, Zbigniew Namysłowski, Artie Shaw, and Art Farmer. For many years he has explored the impact of pre-WWII film music on jazz, which has resulted in splendid releases of music by Victor Young, Bronisław Kaper, Henryk Wars, as well as their teacher Roman Statkowski. Stankiewicz's variations on themes from Różycki's works are the next stage of his journey in search for the sources of jazz.

Pianist and composer Ludomir Różycki, arguably one of the greatest representatives of the 'Young Poland' movement in music, was the author of fine operas (notably Boleslaus the Bold, Eros and Psyche, Casanova). Though in Polish opera history he remained in the shadow of Stanisław Moniuszko, in many other fields he was considered best. He is remembered as the pioneer of the Polish national ballet, and he composed music for Poland's first sound film with sound, The Morality of Mrs Dulska. Różycki was also head of the Polish Composers' Association. On INSPIRED BY LUDOMIR RÓŻYCKI his legacy is informed, for the first time ever, by the genius of jazz.



INSPIRED BY LUDOMIR RÓŻYCKI is, after the programme based on Roman Statkowski's music, Kuba Stankiewicz's second album from ANAKLASIS. This time, apart from solo reinterpretations, he also presents pieces recorded with other outstanding artists: singer Grażyna Auguścik, bassists Jakub Olejnik and Darek Oleszkiewicz, as well as drummers Przemysław Jarosz and Tina Raymond. Eight compositions selected from Różycki's output became the basis for jazz reinterpretations that make up the album's programme.

INSPIRED BY LUDOMIR RÓŻYCKI is part of our 'orange' REVISIONS series, dedicated to experiments and transgressions. The music will be available as of 28th August, on CDs and in online streaming services.

The premiere is preceded by the release of two virtual singles. Already now you can listen online to Caton's Waltz from Act Three of the opera Casanova, Op. 47, whereas Pietà. In the Ruins of Warsaw will be available from streaming services as of 23rd August.


Media patrons: TVP Kultura, Program 2 Polskiego Radia, Culture.pl
Partner: Ruch Muzyczny