Łukaszewski's Mass in London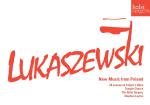 2006-01-13
28th January in Temple Church the world premiere of Paweł Łukaszewski's Mass for choir and wind instruments will take place.
"Msza" oraz "7 Antyfon" Łukaszewskiego zabrzmi w wykonaniu The Holst Singers pod dyrekcją Stephena Laytona. Muzyka nieznanego dotychczas w Wielkiej Brytanii polskiego kompozytora zwróciła uwagę Stephena Laytona podczas konkursu muzyki chóralnej w Warszawie, którego był jurorem. Dyrektora artystycznego The Holst Singers zachwyciło przede wszystkim jej silne uduchowienie, wyszukana harmonika i bogactwo kolorystyczne.
Oprócz kompozycji Łukaszewskiego w programie koncertu znalazły się również utwory H.M. Góreckiego, A. Parta i kompozytorów brytyjskich. Koncert zostanie powtórzony 8 kwietnia.