Impromptu multicolore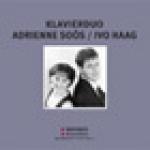 2008-01-04
Krzysztof Meyer's "Impromptu multicolore" now on CD "Works for Piano Duo" by Adrienne Soós and Ivo Haag.
«Werke für Klavierduo» (Works for Piano Duo) contains a selection of works composed for the piano by Adrienne Soós and Ivo Haag. The Duo, which the two started in their student years, performs with technical precision, humour and artistic power.
Rudolf Kelterborn's "Sonata für zwei Klaviere" was composed more than 50 years ago: its simple formal structure, rhythmic directness and more than occasional brilliant virtuosity have a youthful, naive effect.
Michel Roths "molasse vivante" for two pianos was strongly influenced by a novel; the sonata invites us on a journey through our musical culture, describing the landscape's historic, social and geological strata.
In "Impromptu multicolore", Krzysztof Meyers has found a multifaceted, often complex tone language which is at the same time passionately expressive.
In his composition "regard sur les traditions", Dieter Ammann was largely inspired by Messiaen and Ligeti. This work already contains individual rudiments of a new tone language which the composer has since developed into a mature tone language. (Michael Bühler/T. C. Kiolbassa)
Label: Musiques Suisses – Grammont portrait CTS-M 107
Klavierduo Adrienne Sóos und Ivo Haag

Rudolf Kelterborn (*1931)
Sonata für zwei Klaviere (1954/55) 11'41''
1. Toccata I (4'00") 2. Ritornell (4'13") 3. Toccata II (3'28")
Michel Roth (*1976)
«molasse vivante» für zwei Klaviere (2004) 14'15''
Krzysztof Meyer (*1943)
«Impromptu multicolore» für 2 Klaviere, op. 92 19'37''
1. Furioso (6'36") 2. Precipitando (2'55")
3. Lento (5'32") 4. Tempo I (4'35")
Dieter Ammann (*1962)
«regard sur les traditions (avec quelques trompe l'oreille)»
für Klavier vierhändig (1995) 12'02''
Rudolf Kelterborn
Klavierstück VII («Quinternio») für 2 Klaviere (2005) 11'40''
Total Time: 69'41''