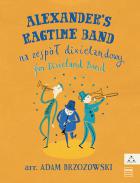 Alexander's Ragtime Band
for Dixieland Band
Countries of delivery:

"This work, composed in 1911 by Irving Berlin, was an immediate smash. Associated with the artistic environment of Broadway, Berlin wrote the greatest American hits, like Cheek to Cheek and White Christmas. Alexander's Ragtime Band was his first success, paving his way to fame. It was taken up by instrumentalists and singers alike. The tune was so appealing and catchy that New Orleans and Dixieland jazz bands soon introduced it into their repertoire, and it became one of the most popular jazz standards. Performed by vocalists, it became a light song, frequently making the hit parade. It was recorded by Louis Armstrong, Bing Crosby, Bessie Smith, Ella Fitzgerald, Liza Minnelli and Ray Charles, among others. Still today, it remains popular with jazz enthusiasts around the world.
Over a hundred years old, this melody is simple and timeless. It is worth playing today in its ori-ginal form, preserving its traditional flavour. It is an excellent number for musicians beginning their adventure in jazz".

Antoni Krupa
ISMN 979-0-2740-1851-1
Language of edition: eng, pol
Cover: softcover
No. of edition: 1
Published: 2017
Type: score and parts
Size: N4 vertical (235x305 mm)