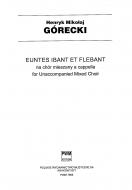 Euntes ibant et flebant
for unaccompanied mixed choir, op. 32 (choral score)
Countries of delivery:

This is the price of one copy. For different number of copies (minimum: 16) please contact us: sales@pwm.com.pl.
The study score you can find here
Euntes ibant et flebant starts the current of sacred works for unaccompanied choir in Góreck's output. Writing the textual layer of the work, the composer used two excerpts from the Book of Psalms (125/126. 6 and 94/95. 6). The musical language of the work is based on the notes of Górecki's ''motto'': d-e-f, which penetrate the entire work in various combinations. The composition is extremely interesting from the harmonic point of view, as it constitutes a sublimated synthesis of the major-minor system with the folk music modality. This procedure provides the work with an ''extraterrestrial'', meditative character, emphasized in addition by the strict psalmody appearing more or less in the middle of the piece. 
Language of text: lat
Number of pages: 28
Cover: without cover
No. of edition: 1
Published: 1977
Type: choral score
Size: A4 vertical (210x297 mm)
Other author's publications