Beginning from 2019.01.01 PWM Edition is not going to process any orders placed in internet shop by individual customers from countries other than Poland. Please find your local distributor on the list, or order our sheet music through the Hal Leonard online shop: http://www.musicshopeurope.com http://www.halleonard.com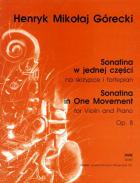 Sonatina in One Movement
Op. 8
Countries of delivery:

The work belongs to a group of Górecki's first compositions with opus numbers, written in the initial years of his studies. Its construction, based on traditional main formal foundations, is compact and transparent. The expression and the lively musical action of the work are determined by characteristic features, typical of the early phase of the composer's output, such as metric and rhythmic schemes with accentual irregularities, dynamic contrasts, culminating in short sections within the framework of big volume as well as atonal harmonies. The Sonatina is a successful work of contemporary music enriching the didactic repertory.
5,00 EUR
Suggested retail price.