Beginning from 2019.01.01 PWM Edition is not going to process any orders placed in internet shop by individual customers from countries other than Poland. Please find your local distributor on the list, or order our sheet music through the Hal Leonard online shop: http://www.musicshopeurope.com http://www.halleonard.com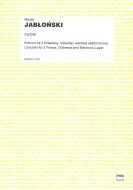 Fuori
Concerto for 2 pianos, orchestra and electronic layer
Countries of delivery:

''Fuori'' is Maciej Jabłoński's debut with PWM. The creator explains the title (literally ''outside'') as ''a musical impression on the extraction of the real me from beneath the layers of masks, hypocricies and self-delusions. In the sound layer the dialogue of the solo pianos is like the bloodstream in an organsm of powerful sound, composed of dense, ubiquitous, colourful textures. There are extreme states of atomized expression, trembling anxiety after deep contemplation.'' The piece had its premiere on March 26, 2011 in Katowice during the fourth Festival of Premieres. It was performed by the artists of the Lutosławski Piano Duo (Emilia Sitarz and Bartłomiej Wąsik) and the Polish National Radio Symphony Orchestra conducted by José Maria Florencio. According to Ewa Schreiber the piece was ''a superb combination of the expanded sound of the orchestra, two pianos and and electronic layer. In this half-hour composition the orchestra creates one coherent body. Sounds of individual instruments are isolated from time to time, only to melt after a moment in a larger group. The richness of the sound was decided not only by good instrumentation (including large wind and percussion groups), but also by various sound effects, articulation and detuning the instruments, most audible in the pianos. In this particular aura one loses a sense of reality. The electronic layer sometimes sounds like instruments, and instruments, retuned and reinforced by the speakers sound very strange. The work is intense and restless. Within it there are distinct phases of tension and relaxation of the density and accumulation of sound, stagnation, rapid changes and inhibition of the action. In agreement with the composer's intention, the work arose as a study of the endless internal struggle, necessary for the development and exploration of truth about himself.'' (Ewa Schreiber, Weekend prawykonań, Ruch Muzyczny nr 9, 2011)
Language of edition: eng, pol
Number of pages: 136
Cover: softcover
Type: score
Size: A4 vertical (210x297 mm)
48,00 EUR
Suggested retail price.


Other author's publications
2-3 pianos with orchestra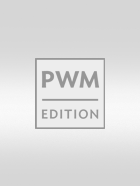 Henryk Mikołaj Górec

Songs of Joy and Rhythm
23,00 EUR Suggested retail price.