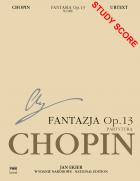 Fantasia on Polish Airs Op. 13, WN
score (miniature edition)
Countries of delivery:

This calls up national feelings in a slightly sentimental way. The stile brillant appeared here not just in full bloom, but sweetens and even the folky Dumka has been transformed into a romanticising nocturne. The orchestra merely accompanies, providing the piano with an oneiric shell.
Critical source-edition edited by Jan Ekier and Paweł Kamiński based on manuscripts, copies approved by Chopin himself, and first editions. Its purpose is to present the works of Chopin in authentic form.
Fantasia in authentic arrangement for one piano are to be found in volume 15 A XIVa, and the version with the piano arrangement in the volume ''Concert Works'' 32 B VII. Orchestral parts can be borrowed from the Library of Orchestral Materials of the PWM Edition (bmo@pwm.com.pl) The miniature version of the National Edition does not contain source commentary or performance notes.
Series: Chopin, WN (min. scores)
ISMN 979-0-9013366-1-2
Language of edition: eng, pol
Number of pages: 46
Cover: softcover
Type: score
Size: A5 vertical (145x205 mm)