Beginning from 2019.01.01 PWM Edition is not going to process any orders placed in internet shop by individual customers from countries other than Poland. Please find your local distributor on the list, or order our sheet music through the Hal Leonard online shop: http://www.musicshopeurope.com http://www.halleonard.com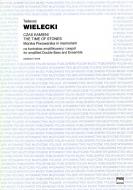 The Time of Stones. Monika Piwowarska im memoriam
for amplified Double Bass and Chamber Orchestra
Countries of delivery:

''I composed The Time of Stones, for amplified double bass and ensemble, for the Dutch group De Ereprijs and Corrado Canonici in June 2002, right after completing the score of Tafle for the first time-much to my astonishment-revealed the full tremor of emotion existing in the trill, which I, up to then, considered merely a simple little 'spring action'', but since then a fully-sprung dynamic force behind the work. I avail myself of this force also in The Time of Stones. From the trills I derived the melodic rhythmic materials of the compositions; I call this technique the ''composed trill'' technique. The composition comes into being, however, along the path of improvisation; it describes an eruption, a gesture of the playing hand, which frees the Trill and its sound-shadow, the Tirll and its natural development, the Tllir and its unfathomable meandering in time, the Ritll and its most splendid heights. I dedicated The Time of Stones to Wim Boerman, the artistic leader of the Ereprijs, a constant partisan of Polish music, which he always bears in mind in building his repertory and in his countless projects. I also dedicated the piece to the ensemble itself. The score bears the inscription ''Monika Piwowarska in memoriam''. In the early 1990s I met Monika, who created delicate graphic works inspired by the texture of stones and grass, pictures mirroring flowing water, and forms of floating clouds. The Time of Stones is the name of one of her works. [Tadeusz Wielecki]
ISMN 979-0-2740-0929-8
Number of pages: 54
Cover: softcover
No. of edition: 1
Published: 2013
Type: score
21,00 EUR
Suggested retail price.