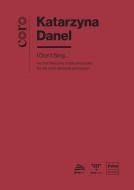 I Don't Sing...
for mix choir and body percussion
Countries of delivery:


I Don't Sing... was written to a dictum by William James, an American psychologist active around the turn of the twentieth century: 'I don't sing because I'm happy; I'm happy because I sing'. This work extols the joy that flows from singing. That joy is expressed partly in the use of the highly syncopated rhythms of Latin American dances, underscored by the use of speech and body percussion. The body percussion part can be performed with
one hand, which makes it possible to perform the work from the score while singing at the same time.

- preface, Katarzyna Danel, translated by John Comber" 
Series: Coro
ISMN 979-0-2740-3154-1
Number of pages: 44
Cover: softcover
No. of edition: 1
Published: 2020
Type: choral score
Size: N4 vertical (235x305 mm)