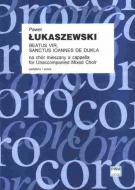 Beatus Vir, Sanctus Ioannes de Dukla
for Unaccompanied Mixed Choir (study score)
Countries of delivery:

Cat. no. 10237

ISBN ISSN: M-2740-0024-0
Study score does not authorise the copying and preparation of performance materials. In order to legally acquire choral scores, at a preferential price for the ensemble, please send an e-mail to: sales@pwm.com.pl or choose choral score here
In 1996 I started work on a cycle of works Beatus vir for unaccompanied mixed choir. ''Beatus vir, sanctus Martinus'', devoted to St. Martin, bishop of Tour, was the first of the cycle. A year later, in 1997, came ''Beatus vir, sanctus Adalbertus'', to Latin words by Professor Jerzy Wojtczak. In 2001, in response to a commission from the Cardinal Wyszyński University, I wrote ''Beatus vir, Cardinalis Stephan Wyszyński'', a piece about the Primate of the Millenium. In the same year I composed ''Beatus vir, sanctus Ioannes de Dukla'', also to Latin words by Jerzy Wojtczak. The cycle is not finished yet as I plan successive compositions about St. Anthony and St. Paul. Two parts of the cycle have been recorded on CD on the Acte Préalable label (AP 0029) by the outstanding Polish Chamber Choir ''Schola Cantorum Gedanensis'' directed by Jan Łukaszewski.
Series: Coro
Language of edition: eng, pol
Language of text: pol
Number of pages: 12
Cover: softcover
Type: choral score
Size: A4 vertical (210x297 mm)