Beginning from 2019.01.01 PWM Edition is not going to process any orders placed in internet shop by individual customers from countries other than Poland. Please find your local distributor on the list, or order our sheet music through the Hal Leonard online shop: http://www.musicshopeurope.com http://www.halleonard.com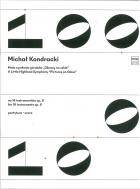 A Little Highland Symphony "Pictures on Glass"
for 16 instruments op. 8
Countries of delivery:

Instruments:

Flute Piccolo – Picc.
Flutes I, II – Fl.
Oboe – Ob.
Bassoon – Bsn.
Clarinet in Eb – Eb Cl.
Clarinets I, II, III in Bb – Cl.
Bass Clarinet in Bb – B. Cl.
Alto Saxophones I, II – A. Sax.
Tenor Saxophones I, II – T. Sax.
Baritone Saxophone – B. Sax.
Horns I, II, III in F – Hn.
Trumpets I, II, III in Bb – Tpt.
Trombones I, II, III – Tbn.
Euphoniums I, II – Euph.
Baritone Horn – Bar.
Tubas I, II – Tb.
Glockenspiel – Glock.
Snare Drum – S. D.
Cymbals – Cymb.
Bass Drum – B. D.



 
Number of pages: 88
Cover: softcover
No. of edition: 1
Published: 2018
Type: score
Size: N4 vertical (235x305 mm)
32,00 EUR
Suggested retail price.


Other titles in the series
Other author's publications