Beginning from 2019.01.01 PWM Edition is not going to process any orders placed in internet shop by individual customers from countries other than Poland. Please find your local distributor on the list, or order our sheet music through the Hal Leonard online shop: http://www.musicshopeurope.com http://www.halleonard.com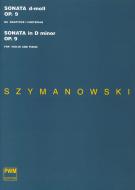 Sonata in D minor
Op. 9 for Violin and Piano from ''Karol Szymanowski - Works'' ed. by T. Chylińska, GA/CE B9 prepared by B. Konarska
Countries of delivery:

Sonata in D minor is Szymanowski's earliest violin work and was written in 1904. In its conventional character one clearly feels the dependence on the violin sonatas of Franck ahd Brahms and the composer's desire to master the traditional, three-movement cyclic form. Sonata for violin and piano, a juvenile work, in spite of the fact that its style is still not crystallised, betrays the composer's growing interest in tone colour and foreshadows the bold and rich melodic line characteristic of Szymanowski's later works.
ISMN 979-0-2740-0588-7
Number of pages: 32
Cover: softcover
No. of edition: 2
Type: solo part (instrumental) + accompaniment
Size: B4 vertical (244x340 mm)
15,00 EUR
Suggested retail price.