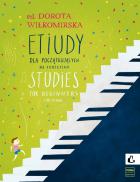 Studies for Beginners
for Piano
Countries of delivery:

Cat. no. 5256

ISBN ISSN: 83-224-1466-8
The present collection of short and easy studies is designed for the first and second year students of primary music schools. Ach study contains some technical problem, such as, for instance, double notes, interval leaps, a different kind of articulation for each hand etc. Most studies are intended for the training of the left hand, generally weaker. The arrangement of the studies takes into account the accumulation of technical problems. 
Series: Educational Series
Language of edition: eng, pol
Number of pages: 28
Cover: softcover
Type: instrumental solo
Size: N4 vertical (235x305 mm)
Table of contents:
| | |
| --- | --- |
| Różycki Aleksander | Study No. 1 |
| Markiewiczówna Władysława | Study No. 10 |
| Lachowicka S. | Study No. 11 |
| Wołkow W. | Study No. 12 |
| Niekrasow J. | Study No. 13 |
| Schytte Ludwig | Study No. 14 |
| Gurlitt Cornelius | Study No. 15 |
| Schytte Ludwig | Study No. 16 |
| Loeschhorn A. | Study No. 17 |
| Gurlitt Cornelius | Study No. 18 |
| Parusinow A. | Study No. 19 |
| Gnesina Helena | Study No. 2 |
| Loeschhorn A. | Study No. 20 |
| Goldenweiser A. | Study No. 21 |
| Goedicke Aleksandr | Study No. 22 |
| Czerny Carl | Study No. 23 |
| Reinecke C. | Study No. 24 |
| Czerny Carl | Study No. 25 |
| Couppey F. | Study No. 26 |
| Berens Herman | Study No. 27 |
| Leduc A. | Study No. 28 |
| Frey Martin | Study No. 29 |
| Berens Hermann | Study No. 3 |
| Gnesina Helena | Study No. 30 |
| Berens Herman | Study No. 31 |
| Biehl A. | Study No. 32 |
| Duvernoy Jean | Study No. 33 |
| Nikołajew Aleksiej | Study No. 34 |
| Köhler K. | Study No. 35 |
| Czerny Carl | Study No. 36 |
| Majkapar Samuel | Study No. 37 |
| Loeschhorn A. | Study No. 38 |
| Zilcher Paul | Study No. 39 |
| Nikołajew Aleksiej | Study No. 4 |
| Biehl A. | Study No. 40 |
| Wołkow W. | Study No. 5 |
| Gnesina Helena | Study No. 6 |
| Lachowicka S. | Study No. 7 |
| Schmidt A. | Study No. 8 |
| Markiewiczówna Władysława | Study No. 9 |
Other titles in the series