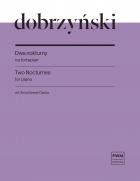 Two Nocturnes
for piano
Countries of delivery:

Ignacy Feliks Dobrzyński wrote eight nocturnes for piano. Five of them were published in 1833–1834 in two books as Opp. 21 and 24, while the remainder appeared in various occasional collections issued much later.
The Nocturne in A major was written in 1846 and belongs to the group of works composed by Dobrzyński during his tour of German cities. That tour was designed to increase the composer's popularity and boost his finances. Besides concerts and meetings promoting Dobrzyński's music, the 'marketing campaign' also included the publication of his new salon miniatures in particular cities. This Nocturne appeared in print in Berlin as Op. 52, together with a short mazurka constituting a transcription of the earlier song 'Gdzie lubi' ('A fickle maid'). The form of this piece is based on an A-B-A1 scheme typical of the genre, with a quite elaborate epilogue. In section A, the composer based the melody on a one-bar motif in mazurka rhythm, which he combined with a bass led in widely spread chords, often used in nocturnes. He thus obtained a specifically idyllic mood. The sonorities, the type of melody and texture and, above all, the ornaments that appear as the work progresses bring to mind the early work of Fryderyk Chopin. The chordal section B, of lively expression, in the key of F sharp minor and a uniform triple rhythm, triggers associations with the middle section of Chopin's Nocturne in A flat major, Op. 32 No. 2. After a short bridge, the reprise comprises a reiteration of the opening part of section A, which then passes into the epilogue, in which the composer splices motifs from both contrasting sections.
It is difficult to date the second Nocturne published here and to establish the circumstances surrounding its composition. It was published posthumously (in 1868, in Warsaw), in the Album Pamiątkowe IG.F. Dobrzyńskiego ('Souvenir album of I. F. Dobrzyński'), which also contained two mazurkas, two songs and an excerpt from his incidental music for the play Konrad Wallenrod arranged for four hands. These compositions were not previously published and probably come from private collections. The Nocturne carries a dedication to Miss Wanda Miecznikowska. Determining the principal key of this work is rather problematic, since it falls into two tonally and expressively contrasting sections, divided by a lengthy caesura. An agitated, emotional episode in F minor (in A-B-A1 form, section B in A flat major), ending with a distinct conclusion, is followed, rather unexpectedly, by completely new material in the key of F major; adhering to a slower tempo and of very restrained expression, it serves as a sort of post scriptum, a lengthy and calming musical commentary to the foregoing segment. One may even gain the impression that this Nocturne is essentially a diptych consisting of two separate 'songs without words'. Judging by its style, which is close to the lyric writing of Franz Schubert, Felix Mendelssohn-Bartholdy or John Field, with elements of the style brillant, this work could have been written earlier than the Nocturne in A major. One may also discern here a certain melodic-rhythmic similarity to the above-mentioned Nocturne in A flat major by Chopin.
Both these Dobrzyński mazurkas could make interesting additions to the repertoire of both professional pianists and more advanced amateurs interested in nineteenth-century salon music. They may also enrich the programmes of concerts and broadcasts, particularly those devoted to Polish music, and also be included on the curricula of secondary schools of music.
The present edition was based on the first editions. The proposed fingering in both works and the pedalling in the Nocturne in A major are entirely the work of the editors; other editorial performance markings are given in brackets. 
 
Series: Strumento
ISMN 979-0-2740-3371-2
Language of edition: pl, eng
Number of pages: 24
Cover: softcover
No. of edition: 1
Published: 2021
Type: instrumental solo
Size: N4 vertical (235x305 mm)