Beginning from 2019.01.01 PWM Edition is not going to process any orders placed in internet shop by individual customers from countries other than Poland. Please find your local distributor on the list, or order our sheet music through the Hal Leonard online shop: http://www.musicshopeurope.com http://www.halleonard.com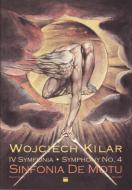 Symphony No. 4 "Sinfonia de motu"
for Soprano, Baritone, Choir and Orchestra
Countries of delivery:

''Sinfonia de motu'' was written in 2005, to commemorate World Physics Year. Within the score, the composer placed a musical motto, consisting of five notes: G e c h A [H representing B natural]. These are an encryption of the basic concepts and quantities of physics - the gravitational constant, the electron charge, speed of light, Planck's constant and the atom. From this musical structure all the motifs within the entire symphony were derived. As for literary text, large excerpts from Dantes Divine Comedy were used. They form a certain narrative leading from darkness, the initial chaos and hell to the heavens, the stars, eternal and supreme light, and finally the all-embracing love, which moves the sun and the stars- and so concluding with the final triumphant song of praise in honour of the Creator: Gloria (quoted from Leszek Polony: discussion of the work in the third Festival of Polish Music programme notes).
ISMN M-2740-0476-7
Language of edition: eng, pol
Language of text: ita
Number of pages: 64
Cover: softcover
No. of edition: 1
Published: 2007
Type: score
Size: A3 vertical
Other author's publications