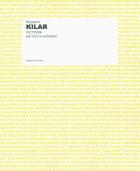 Victoria
for Mixed Choir and Symphony Orchestra
Countries of delivery:

Cat. no. 8663

ISBN ISSN: 83-224-2210-5
The work was created to celebrate the second visit of Pope John Paul II to Poland and it was performed for the first time in His presence - on June 20th, 1983 at the Cathedral of Christ the King in Katowice. According to Leszek Polony, with this piece Kilar ''reminded his compatriots of the famous 'message', which King Jan III Sobieski sent to Pope Innocent XI following his victory over the Turkish army at Vienna: ''Venimus, vidimus, Deus vicit - We came, we saw, God was victorious.'' Born of optimism and unshakable faith, it is undoubtedly an occasional piece, a sort of hymn of praise to welcome the distinguished guest''.
Language of edition: eng, pol
Language of text: lat
Number of pages: 16
Cover: softcover
No. of edition: 1
Published: 1983
Type: score
Size: A3 vertical