« November 2016 »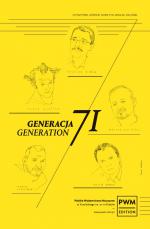 2016-11-25
This year we celebrate 'round' birthday of Generation '71 composers cooperating with PWM Edition. We are happy and proud to follow their paths.
We have already sent our greetings to Mikołaj Górecki, Maciej Zieliński, Paweł Mykietyn and Wojciech Widłak. Today it is time for loud HAPPY BIRTHDAY tune for Marcel Chyrzyński!
2016-11-17
11 December is the date of 140. anniversary of Mieczysław Karłowicz birthday. LET'S PLAY KARŁOWICZ is a project initiated by PWM Edition that invites philharmonics and orchestras to play composer's pieces around this date. As a result fourteen concerts with Karłowicz's music will be performed only in December all around Poland. Thank you for such a great response to our project!