Beginning from 2019.01.01 PWM Edition is not going to process any orders placed in internet shop by individual customers from countries other than Poland. Please find your local distributor on the list, or order our sheet music through the Hal Leonard online shop: http://www.musicshopeurope.com http://www.halleonard.com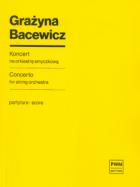 Concerto for String Orchestra
Countries of delivery:

Cat. no. 4901

ISBN ISSN: 83-224-0619-3
Concerto for String Orchestra - the ''magnum opus'' of Grażyna Bacewicz (1909-1969), the outstanding composer and violinist - was composed in 1948 and at once became one of the most frequently performed works of this Polish artist. This masterpiece of neoclassicism fascinates as much by its invention and virtuosic briliance as its harmonious combination of formal elements of a traditional nature with new tonal ideas. The form of the three-movement Concerto oscillates between that of the baroque concerto grosso and the early classical sonata cycle. The neoclassical tendency is evident, above all, in the articulation of the musical structure in keeping with the rigours of periodicity and the manner of developing thematic threads derived from them, while the concertato character of particular movements and the generally linear texture indicate baroque connections. The first movement (Allegro) - in the form of an early classical sonata allegro - begins with a subject with energetic figurations, emblematic for the whole piece and based on a constant, pendulum-like semiquaver movement anchored securely on D. It is precisely because of the nature of this subject that Bacewicz's work has been compared to the Brandenburg Concertos by Jan Sebastian Bach The second movement (Andante), while retaining its concertato charakter, is, at the same time, an example of the composer's ability to create emotionally serene lyrical moods, and her sense of cantilena derived from the spirit of romantic song (a motto-subject presented at the beginning by cello solo). In this movement it is both the process of evolution and the instrumental colouring which constitute the constructional agents forming here a self-containedvalue. In the third movement (Vivo) the composer returns to her favourite type of music, understood as an expression of pure motion in the form of figural motives with infinite transformational possibilities. The spontaneity of the music, the constant mutability of the tonal situations, and the sophisticated, ''acerbic'' harmonies - as Witold Lutosławski described them - form a colourful mosaic built in the structural skeleton of a sonata rondo. Concerto for String Orchestra is not only proof of the stylizing tendency of the composer but also of an unerring intuition concerning the technical and expressive possibilities inherent in a string instruments ensemble. [Małgorzata Gąsiorowska, translated by Ewa Cholewka]
Language of edition: eng, ger, pol
Number of pages: 68
Cover: softcover
No. of edition: 6
Published: 2020
Type: score
Size: N4 vertical (235x305 mm)
22,00 EUR
Suggested retail price.