Beginning from 2019.01.01 PWM Edition is not going to process any orders placed in internet shop by individual customers from countries other than Poland. Please find your local distributor on the list, or order our sheet music through the Hal Leonard online shop: http://www.musicshopeurope.com http://www.halleonard.com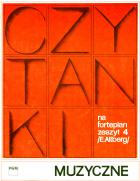 A Music Reader
for Piano, Book 4
Countries of delivery:

Cat. no. 5720

ISBN ISSN: 83-224-1253-3
EAN: 9790274012052
The ''Music Reader'' has been conceived as a kind of music magazine, containing various musical examples, in particular piano miniatures by various authors and excerpts drawn from larger piano works. The title of this collection implies the idea of reading, i.e. not only playing at sight, but also getting acquainted with as manyy valuable piano pieces as possible. The fourth book of the ''Music Reader'' is intended, basically, for secondary music schools. It may also be of use in the final years of primary music schools.
Series: Educational Series
Language of edition: pol
Number of pages: 56
Cover: softcover
No. of edition: 6
Published: 1990
Type: instrumental solo
Size: N4 vertical (235x305 mm)
Table of contents:
| | |
| --- | --- |
| Bartók Béla | Bajka o muszce |
| Casella Alfredo | Bolero |
| Bartók Béla | Dudy |
| Prokofiew Sergiusz | Gawot op. 77bis nr 4 |
| Debussy Claude | Kołysanka heroiczna |
| Szymanowski Karol | Krakowiak |
| Albéniz Izaak | Malaguena op. 165 nr 3 |
| Szymanowski Karol | Mazurek |
| Poulenc Francis | Mouvements perpétuels (I, II) |
| Smetana Bedrich | Polka F-dur |
| Smetana Bedrich | Polka f-moll |
| Franck César | Powolny taniec |
| Ravel Maurice | Preludium |
| Messiaen Olivier | Preludium (La colombe) |
| Skriabin Aleksander | Preludium op. 11 nr 15 |
| Skriabin Aleksander | Preludium op. 2 nr 2 |
| Statkowski Roman | Preludium op. 37 nr 1 |
| Statkowski Roman | Preludium op. 37 nr 3 |
| Kabalewski Dymitr | Preludium op. 38 nr 23 |
| Szostakowicz Dmitrij | Taniec fantastyczny op. 1 nr 1 |
| Miaskowski Mikołaj | W kapryśnym nastroju |
| Albéniz Izaak | Zortico op. 165 nr 6 |
| Paciorkiewicz Tadeusz | Żarcik |