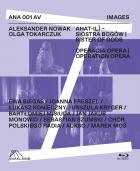 Ahat-Ili - Sister of Gods
seria: Images (Blu-ray)
Countries of delivery:

Cat. no. 70030

Kod producenta: ANA 001 AV
AHAT ILI – SISTER OF GODS – video recording of the opera
OPERATION OPERA – documentary film, dir. Jan Sosiński

The opera ahat-ilī – Sister of Gods was a commission of Krakow's Sacrum Profanum festival, where it was premiered and recorded. The music was written by Aleksander Nowak, the libretto – by the Nobel Prize winner Olga Tokarczuk (based on her own novel). The spectacle was directed by Pia Partum, and the sets were designed by Magdalena Maciejewska. While the human persons of this drama sing in contemporary English, the deities and demons use the languages of the past: Akkadian, Latin, Ancient Greek, Proto-Slavic, and Aztec. Already this device introduces the audience to the opera's essential topic of the interpenetration (and sometimes also conflict) of two orders: the divine and the human. The DVD also comprises the documentary Operation Opera, dedicated to Alek Nowak – lecturer at the Katowice Academy of Music, an original and daring composer, winner of the 'Passport' Award of the 'Polityka' weekly, for, among others, ahat-ilī – a work "that restores our faith in the future of the opera."
 
Series: ANAKLASIS
No. of edition: 1
Published: 2020
Type: DVD
Other titles in the series
Other author's publications
Editor's Choice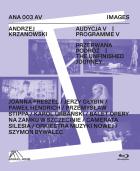 Andrzej Krzanowski

Audycja V.
29,00 EUR