Beginning from 2019.01.01 PWM Edition is not going to process any orders placed in internet shop by individual customers from countries other than Poland. Please find your local distributor on the list, or order our sheet music through the Hal Leonard online shop: http://www.musicshopeurope.com http://www.halleonard.com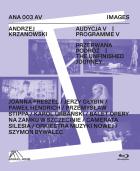 AUDYCJA V.
seria: Images (Blu-ray)
Countries of delivery:

Cat. no. 70032

Kod producenta: ANA 003 AV
EAN: 5907795209333
PROGRAMME V – video recording of the composition
THE UNFINISHED JOURNEY – documentary film, dir. Jan Sosiński

Andrzej Krzanowski, a Silesian accordionist and composer, pupil of Henryk Mikołaj Górecki, died prematurely aged less than forty. He left behind many symphonic, chamber and vocal-instrumental music works. One of those latter is the meta-opera Programme V, whose world premiere only took place in September 2018 at the 'Warsaw Autumn'. This innovative piece, bridging Romanticism to the avant-garde, was interpreted at the festival by soloists, actors, mimes, dancers, as well as the Camerata Silesia and Orkiestra Muzyki Nowej (New Music Orchestra) under the baton of Szymon Bywalec. The spectacle was directed by Natalia Babińska. The DVD also includes the documentary The Unfinished Journey, dedicated to Krzanowski, who earned, not without reason, the name of 'the Chopin of the accordion'. With his own music and his virtuosic performances, he liberated the accordion from its inferior status, and inspired many generations of composers and performers to take up this instrument.
Series: ANAKLASIS
No. of edition: 1
Published: 2020
Type: DVD
Other titles in the series
Other author's publications