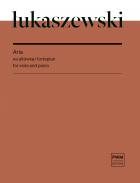 Aria
for viola and piano
Countries of delivery:

In 2012, at the initiative of Paweł Wojciechowski, Paweł Łukaszewski composed Aria for cello and piano. The work was soon published, and a few years later further versions appeared for other solo instruments: soprano saxophone, alto saxophone, viola and violin. The composer wrote the original version for cello with his son Wojtek in mind, who had just completed his fourth year at a primary school of music, but the emotional charge contained in this composition will satisfy the interpretative demands of mature musicians as well, particularly since the composer left performers considerable scope for individual expression.

With its harmonies, venturing beyond tonality towards jazz-influenced chords, its simple accompaniment, built from repeated motifs that spill between the plans of the two hands, and its consistent narrative, Aria displays a character that is on one hand somewhat nostalgic, and on the other filled with anxiety and hidden drama. An insightful interpretation of this work may bring out that concealed diversity of expression.
Series: Strumento
Language of edition: pol, eng
Cover: softcover
No. of edition: 1
Published: 2021
Type: solo part (instrumental) + accompaniment
Size: N4 vertical (235x305 mm)