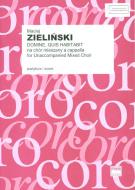 Domine, quis habitabit
for unaccompanied mixed choir (study score)
Countries of delivery:

Study score does not authorise the copying and preparation of performance materials. In order to legally acquire choral scores, at a preferential price for the ensemble, please send an e-mail to: sales@pwm.com.pl
or choose choral score here
The composer has set to music the suggestive, admonishing text of Psalm 15. The initial question (''O Lord, who may lodge in thy tabernacle?'') is answered by means of a number of examples of righteous behaviour, which are commented upon and summed up at the end (''He who does these things shall never be brought low. He will lodge in thy tabernacle''). The beginning and the end sound in dignified homorhythm. The middle part is, on the other hand, shaped on the basis of various polyphonic devices such as overlapping, alternating, imitation of voices, as well as masterly dynamic changes.
Series: Coro
Language of text: lat
Number of pages: 12
Cover: softcover
No. of edition: 1
Published: 1999
Type: choral score
Size: A4 vertical (210x297 mm)
Other titles in the series
Other author's publications