Beginning from 2019.01.01 PWM Edition is not going to process any orders placed in internet shop by individual customers from countries other than Poland. Please find your local distributor on the list, or order our sheet music through the Hal Leonard online shop: http://www.musicshopeurope.com http://www.halleonard.com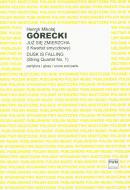 Dusk Is Falling
Op. 62, String Quartet No. 1
Countries of delivery:

''The String Quartet No 1 ''Already it is Dusk'' ' by Henryk Mikołaj Górecki was composed in the autumn of 1998 as a commission of the American avant-garde Kronos Ensemble , its first performer in Minneapolis , 1989. In his unique way, the composer represented the atmosphere of dusk, when after a busy day the blessed silence of the night comes. The cantus firmus in viola's part employs, like in the former ''Three Pieces in the Old Style'' , a quotation from a song by Wacław of Szamotuły '' The Prayer when the Children go to Sleep (Elżbieta Widłak , brochure on Henryk Mikołaj Górecki)
Language of edition: eng, pol
Number of pages: 32+10+10+8+8
Cover: softcover
Type: parts, score
Size: A5 vertical (score), A4 vertical (voices)
21,00 EUR
Suggested retail price.