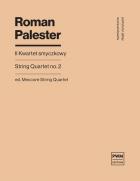 String quartet no. 2
score and parts
Countries of delivery:

On the 75th anniversary of PWM Edition, we are delighted to recall that very first publication. Its present edition was prepared by the Meccore string Quartet.
The Second String Quartet is one of the first major compositions by Roman Palester. It was written during the composer's stay in Paris in 1936, still before his thirtieth birthday. It was his second work in this difficult, demanding genre. Yet the First String Quartet, written during Palester's studies, is lost, and the composer regarded it as an unsuccessful work. The Second Quartet, meanwhile, is the work of a mature composer, admittedly not free from discernible influences, including Karol Szymanowski, but pursuing his own, independent path.
This work was first performed on 17 March 1937 in Warsaw, and positive reviews were immediately forthcoming. Particularly noteworthy is the review by Konstanty Regamey, who wrote: 'The Quartet is the first performed work by Palester in which he has "found" himself. He has found himself suddenly, explosively, all at once, and differently to how one might have expected'.
Towards the end of 1936, the Polish Society for Contemporary Music recommended that Palester's Second String Quartet be performed at the International Society for Contemporary Music's festival in Paris, but ultimately the work was first performed abroad in 1946 at the ISCM festival in London. The first edition also came after the war. PWM Edition, founded in March 1945, began its publishing work with Palester's Second String Quartet, which brings home just how highly the composer was regarded in the musical world at that time.
The form of this work combines the principle of the sonata cycle with an expansive sonata allegro and arch form. Besides impressionistic sonorities, bringing to mind the first movement of Karol Szymanowski's Second String Quartet, there are many energetic passages, as well as polyphonic complexities. The theme of the third movement clearly betrays links to highland folklore. The oneiric theme that opens the work, shown against delicate tremolandos, acts as a leading motif. It appears at the climax of the second movement and the conclusion of the third.
Palester wrote the following about his Quartet in notes to a catalogue of his works: 'This work represents the composer's first attempt to break with the neoclassical style of his youth'.
After the war, the Second String Quartet was performed several times, but when the composer decided to remain in the West, a ban was placed on the performance of his works (it remained in place, with a short break during the post-Stalin 'thaw' of 1953–1957, until 1977). It was only in 2000 that this work was recorded for radio (by the Wilanów Quartet). Then in 2018 it was recorded onto disc by the Apollon Musagète Quartet.

Lech Dzierżanowski,  tłum. John Comber.
Series: Camera
ISMN 9790274032722
Language of edition: eng, pl
Number of pages: 168
Cover: softcover
No. of edition: 1
Published: 2020
Type: score and parts
Size: N4 vertical (235x305 mm)
Other titles in the series
Other author's publications