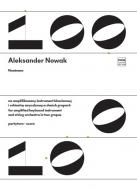 Naninana
for amplified keyboard instrument and string orchestra in two groups
Countries of delivery:

Work commissioned by the National Audiovisual Institute, Poland on the occasion of the opening of the new venue.
NANINANA for amplified keyboard instrument (preferably the classic Fender Rhodes Stage Piano) and string orchestra arranged in two symmetric groups, which was commissioned by the National Audivisual Institute for the opening of its new seat in 2015, is a composition on a special kind of absence. You could define this absence as perceivable, but difficult to understand. There are a lot of elements here which can illustrate this absence: from the interlude tones that are supposed to sound, yet not to the full, through the first appearance of the soloist with his part containing fragments of a composed melody which is mostly improvised, the second movement with harmony that can suggest hopeless longing for something that can never return, to the final culmination which is there, but seems as if it were not there...

The work's motto is an anonymous poem that seems to refer to the concept of the so-called "Schrödinger's cat", i.e. a hopeless attempt to rationally explain illogical phenomena in our world's microscale:
Where, oh, where
is that cat which is
and is not there?
[Aleksander Nowak]
Language of edition: eng, pol
Number of pages: 22
Cover: softcover
No. of edition: 1
Published: 2018
Type: score
Size: 235 x 325 mm
Other titles in the series
Other author's publications